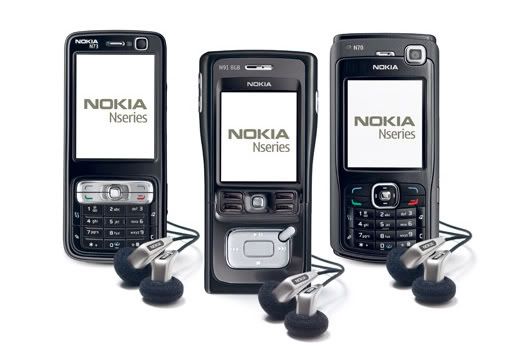 Nokia Updates N70 and N73 with New Music Editions (MobileBurn)
: "Amidst the excitement of Nokia announcing the new N75 and N95 smartphones, the company also refreshed its N73 and the aging N70, joining the N91 8GB in a new special edition music range of handsets.
Unlike the N91 8GB, which had its storage capacity doubled, the refreshed N70 and N73 have not received any significant hardware enhancements. Though sporting a fresh coat of black paint, the only additions to the handsets come in the bundled accessories.
The Nokia N73 Music Edition now comes packaged with a 2GB miniSD memory card, and the N70 Music Edition includes a 1GB RS-MMC card. Both handsets also come bundled with a Pop-Port to 3.5mm headset jack adapter, allowing the use of any third-party set of headphones. A dedicated music button now features on the handsets, where both once had a generic multimedia key.
'Music is an essential part of our daily lives and it has the power to evoke memories and change moods,' said Tommi Mustonen, Director, Multimedia, Nokia. 'With our new Nokia Nseries Music Range, we hope to enhance those personal experiences and make them even more special.'
The N70 and N73 Music Editions are set to be available during October 2006, with prices of 350 Euro (around US$445) and 450 Euro (around US$575) respectively."
FF
: "
Its looking gd, but I prefer bright colour
"